You can't go wrong with an Elite aluminum fence. Completely manufactured and pre-assembled in the USA, every Elite aluminum fence bought supports the hard working American economy. To help prevent against weathering damage such as rust, corrosion, or chipping, each Elite aluminum fence is powder coated, making one of the highest quality fences even more durable! Elite then includes a lifetime warranty with all of their aluminum fencing, so you know your new purchase is protected.
Pre-Assembled Aluminum Fence Panels
Select your desired style below for pricing and information
---
EFS-10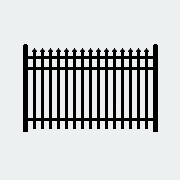 Pricing & Specifications
EFS-15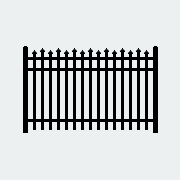 Pricing & Specifications
EFS-50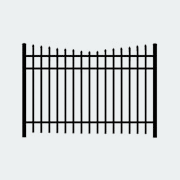 Pricing & Specifications
---
EFS-55
Pricing & Specifications
EFF-20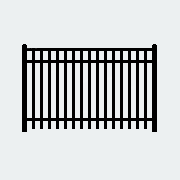 Pricing & Specifications
EFF-25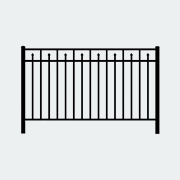 Pricing & Specifications
---
LifeGard
Pool Fence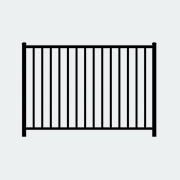 Pricing & Specifications
ZipTrack Gates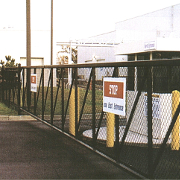 Pricing & Specifications
---
With Elite Aluminum Fence, there's a style to fit every property. The EFS-10 has finials extending through the top at equal heights, while the EFS-15 features the same finials but at staggered heights. The EFF-20 features a smooth flat top rail, and the EFF-25 is a stunning combination that has decorative finials with a smooth top rail above them. Elite's EFS-50 has finials that are in a concave pattern, while the EFS-55 has finials that are in a convex pattern. Lastly there's the LifeGard, a BOCA pool code approved fence that features a flat top and bottom rail.
Not only are there many different styles to choose from, you also get to pick whether you'd like a picket through bottom rail or a smooth no picket through bottom rail. You also have the option of standard spacing between your pickets, or the optional alternative spacing between your pickets. Once you've decided on your new Elite aluminum fences style, you can then select a grade - residential, commercial, or industrial. With Elite aluminum fence there's truly something to meet every need.
We're proud to be an authorized Elite aluminum fencing distributor. At Discount Fence Supply we're committed to helping you find the perfect fence for you at the best price possible. You can email our sales team anytime at sales@discountfence.com or call us toll free Monday thru Friday 8-5 EST at (800) 878-7829. Not located in the United States? Don't worry, we have years of experience shipping internationally around the world.