All of our Elite aluminum fence that we carry is manufactured right here in the USA by Elite Fence Products, Inc out of the highest quality materials available. Elite then gives this high quality aluminum an ultra violet stabilized Super Durable TGIC polysester powder coating that passes the AAMA 2604 specifications. This powder coating is to prevent your fence's paint finish from ever cracking, chipping, or peeling.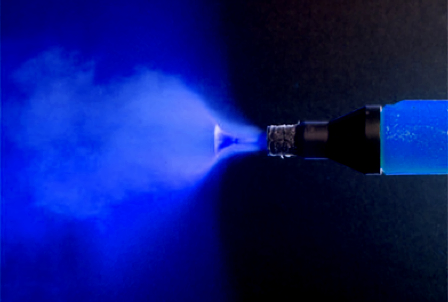 Powder Coating in Process
The difference between a conventional liquid paint and a true powder coating is that the powder coating doesn't require any sort of solvent to keep the binder and filler parts in liquid suspension. It's both applied and cured under heat to form a hard finish that won't suffer any of the usual pitfalls of a conventionally painted fence. Powder coating will make sure your ornamental aluminum fence is going to last the ages.
Elite stands by the strength of their aluminum and the quality and consistancy of their premium powder coating finish by offering the original purchaser of the fence a lifetime limited warranty. With over 40 years of experience manufacturing top quality aluminum fencing, all backed by a lifetime warranty, it's no wonder Elite is one of the leading ornamental aluminum fence manufactures.
The complete warranty form is attached below:
---
Questions?
At Discount Fence Supply we're commited to being there for you every step of your fence shopping experience. If you have any questions about Elite fencing, their warranty, or would like to purchase over the phone, call our experienced sales representatives toll free Monday thru Friday 8-5 EST at (800) 878-7829, or you drop us an email us anytime at sales@discountfence.com. We're here for you!